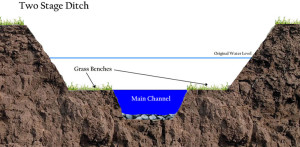 State: Indiana
County: Wabash
Water Bodies Affected: Beargrass Creek
This project will construct a 1,500 feet long, two-stage ditch in upper Beargrass Creek, Wabash County, Indiana. The completion of this ditch will reduce and maintain sedimentation as well as phosphorus and nitrogen runoff to streams and off-river habitats.
Beargrass watershed has been part of a larger watershed restoration effort in the middle Eel River that includes two 10 digit HUCs since 2009. In 2011 the Beargrass watershed was designated as a high priority critical area in the middle Eel River watershed management plan. Additional partnerships were formed in 2013 to complete a more detailed assessment of the watershed and to concentrate conservation dollars within the watershed. Beargrass was chosen because of the level of cooperation among agricultural producers toward conservation efforts and interest among partners to focus on a 12 digit-HUC. There is a need to scientifically document the efficacy of conservation efforts as they relate to fish and wildlife habitat restoration and water quality in these severely altered ecosystems.
This project will construct a two-stage ditch in the upper reaches of Beargrass Creek. Scientists from the Department of Bioproducts and Biosystems Engineering at the University of Minnesota will provide design and engineering services for the project. Joe Magner, Ph.D. has successfully designed and constructed the largest two-stage ditch system in the United States. They are currently preparing manuscripts describing the environmental and ecological benefits measured since 2009. The design will be based on Natural Resources Conservation Service stream restoration design national engineering handbook-Geomorphic Channel Design. The ditch will be approximately 1,500 feet in length and will replace a traditional trapezoidal farm drainage ditch
The project will also examine the efficacy of the stream modification and document the ecological responses. There is a gage station in the lower reaches near the confluence with the Eel River and a gage station at the downstream end of the proposed two-stage ditch. Water has been and will continue to be analyzed for total and dissolved reactive phosphorus, Nitrate-nitrogen, Total Nitrogen, Kjeldahl Nitrogen and suspended sediment (turbidity and gravimetrically). Stream discharge is calculated to determine nutrient and sediment loads. Rainfall along with air and water temperature is also recorded. Stream habitat has been quantified with the Qualitative Habitat Evaluation Index (QHEI) and the fish community has been evaluated and monitored using the Index of Biological Integrity (IBI) for the Eastern Cornbelt Plain ecoregion. Freshwater mussels and benthic macroinvertebrates have been documented at 7 sites in the mainstem of the stream.